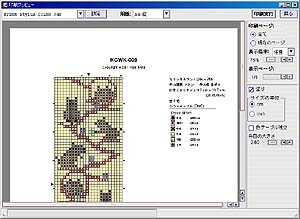 "KG-Chart for Cross Stitch" is a program to design a chart for cross stitching. This program has following features:
Drawing pixels with mark to distinguish color.

Color palette (mimic DMC's thread color).

Drawing backstitching

Print/Preview/Real view of a chart.

Import/Export a chart to/from other image format(bmp/png/jpg/gif/ico).

Please see the
Online Manual
for more details.
System Requirements
MS-Windows 8/10/11 - English/Japanese

1024x768 or higher and True Color display card and monitor

Copyright
Copyright (C)2000-2014 Keiji Ikuta
All rights reserved.
The copyright of the software "KG-Chart for Cross Stitch", "KG-Chart for Cross Stitch LE", and "KG-Chart for Cross Stitch Viewer" belong to the author, Keiji Ikuta.
No need to register or pay to the author to use those two programs.

You need to contact the author when you distribute this software by Web site, magazine, etc.

You may not reverse-assemble, reverse-compile this software.

LIMITATION OF LIABILITY: The author shall not be liable for any damages whatsoever arising out of the use of this software.
Please don't use this software for critical purposes.

Acknowledgement
Borland C++ version 5.02J

Microsoft Visual C++ .NET 2003

Microsoft Visual C++ 2005

Microsoft Visual C++ 2008

jpeg-6b
This software is based in part on the work of the Independent JPEG Group.

libpng: version 1.2.18

zlib: version 1.2.3

CxImage version 5.99c

LibTIFF version 3.8.2